Fun With Flowers From Israel
Floral designs come in all sizes, small, medium and large. Each is appropriate for certain unique situations and occasions. Many floral designers love making large arrangements, and we are presenting one such design in water and glass using Israeli flowers...
This kind of arrangement can be used for party and function work. It would be amazing on a buffet table. It could be used on an altar in a church.
It works well in an entry hall, or a bay window.
It could also work quite nicely in a large reception area of a business.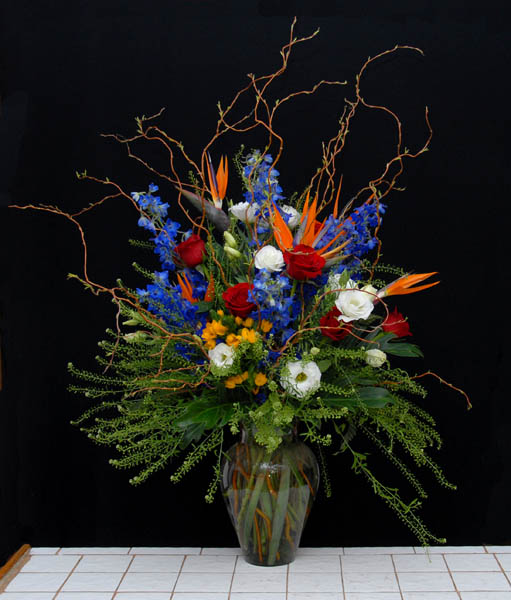 Looking at this design closely we once again see some of the wonderful Israeli materials! Lisianthus, ornithogalum dubium, xanadu foliage, larkspur and green bells are prominent in this lavish and expensive vase arrangement. The Israeli materials work well with curly willow, strelitzia and roses.
Large floral art incorporating these wonderful materials from Israel.... Wow!
---
---
Still Photographs
The following pages contain still photographs of a variety of very neat designs incorporating Blooming of Beloits' wonderful flowers from Israel.
Click on Page 10 below to continue exploring this part of the gallery!