Fun With Flowers From Israel
The materials that we have to play with are varied and quite interesting:
There are many neat things that the folks of Blooming of Beloit bring in from Israel.
Xanadu foliage, ranunculus, lisianthus, green bell, kochia and green trick dianthus are amongst the exciting possibilities. Some of these materials may be available from other sources but for this gallery we used materials from Israel!
Lets start with this green stuff. It is called green bell. The folks at Blooming of Beloit tell us that it is in the mustard family. It is a filler flower, the kind of tiny blossoms that we normally associate with things like babysbreath or statice.
We found that this filler brings a totally different visual effect to the design table than other things we've used in the past. Here for example is a small budvase. But this one is not my Grandfather's budvase!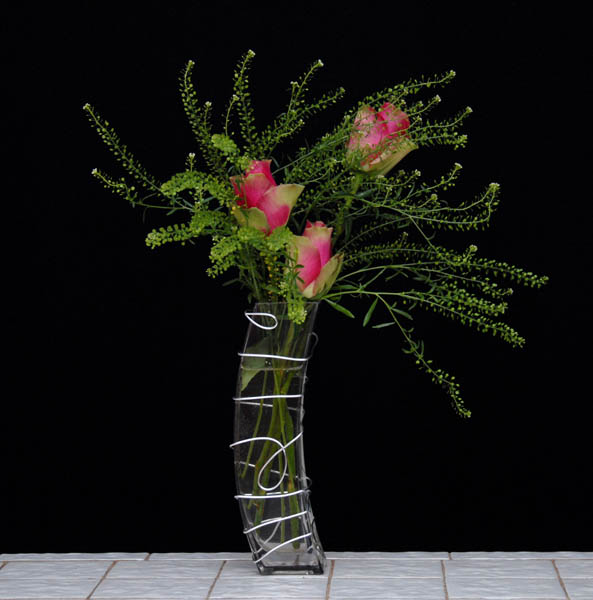 The container is a curved piece of glass, and it is covered/enclosed by some of the great silver decorative wire from Smithers Oasis. The floral contents include three roses and green bell.
Notice how the Israeli green bell combines so nicely with the roses and non floral elements to provide a very dramatic piece. Three roses in and of themselves don't present a 21st Century presence. It is the Israeli filler material that really helps to enhance this design, and makes it far more interesting. Green bell, decorative wire and the glassware work quite well together in giving an contemporary feeing to the design. The roses add value and prestige.
In the coming pages watch out for more use of green bell. It is a marvelous material that combines surprisingly well in many floral design contexts. Our staff as well as students from both our Day and Evening Classes really found that they liked using green bell.
---
---
Still Photographs
The following pages contain still photographs of a variety of very neat designs incorporating Blooming of Beloits' wonderful flowers from Israel.
Click on Page three below to continue exploring this part of the gallery!