Fun With Spring Flowers
On the last page we showed how you can use viburnum in a horizontal vase arrangement to help unify a diverse grouping of flowers and colors.
But let's now create a horizontal design that really shows off the viburnum, as an important floral element in and of itself!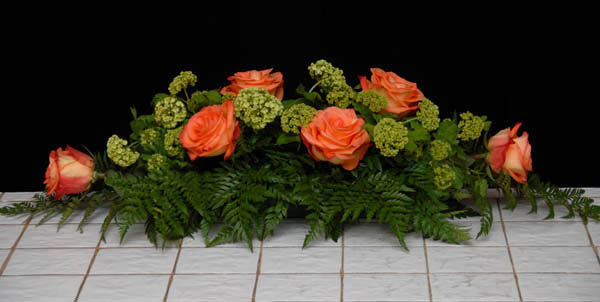 Here we have only two major flowers--roses and viburnum...placed on a bed of baker fern... ( yes I know it sounds like the description of some exotic salad at a restaurant.. but this floral design is just to look at.. No eating allowed--not even for my dogs Dempsey or DavidEdward!)
In this case the cool green of the viburnum contrasts quite nicely with the bright warm orange of the roses. They both play off of each other, and in the process, both are highlighted quite nicely. The contrast works quite well.
Stylistically, this is classical, yet it feels unconventional.
The result is a very elegant table centerpiece. Notice that for an elegant table design, it incorporates only six roses!
This design is very practical for the retail florist or prosumer, as it is very quick and easy to create.
Spring elegance made possible by the wonderful viburnum from Blooming of Beloit.

Here is a close up taken while we were creating this centerpiece. You can see the contrast between the roses and the viburnum quite nicely here.
Just a thought: For variations you could use other colors of roses such as bright yellow, or hot pink, etc.
Consider the table, the tablecloth, plates, or even the decor of the room in which this is placed. Using the same or similar color rose as some of these elements in the surroundings (eg. wall, painting in the room, etc) can be a very powerful way to give your floral design using viburnum even greater visual impact!
We stress these kinds of "tricks of the trade" at Rittners Floral School!
---
---
Still Photographs
The following pages contain still photographs of a variety of very neat designs incorporating Blooming of Beloits' wonderful spring flowers.
Click on Page five below to continue exploring this part of the gallery!