Fun With Spring Flowers From Blooming of Beloit
At Rittners Floral School we always eagerly look forward to the change of seasons of the year. Each season has its own unique holidays, colors, symbolic motifs and flowers!
I especially enjoy the spring. It is a time of renewal where the cold, harsh winter gives way to more moderate climate. It marks a return to lighter clothing and non frigid outdoor activities. And of course, spring is associated with the rebirth of nature where shrubs and trees burst into blossom, and a huge variety of flowers make our gardens a joy to behold.
Normally we associate the spring season with traditional favorites like daffodils, Iris and tulips. These of course are definitely associated with this wonderful time of year.
But there is more... Much more....While acknowledging the more traditional favorites there are also so many new ways to seek spring inspiration...Sometimes it means using new and different materials......We recently were fortunate to receive some wonderful spring botanicals from from the great folks at Blooming of Beloit, in Beloit Wisconsin.
In this gallery we'd like to share with you how you can take some of these wonderful spring materials and use them to achieve new and different looks in YOUR designing.
This gallery was a labor of love....We had a great time putting this together.
We hope that you enjoy viewing and reading, as much as we enjoyed designing, photographing and producing this gallery!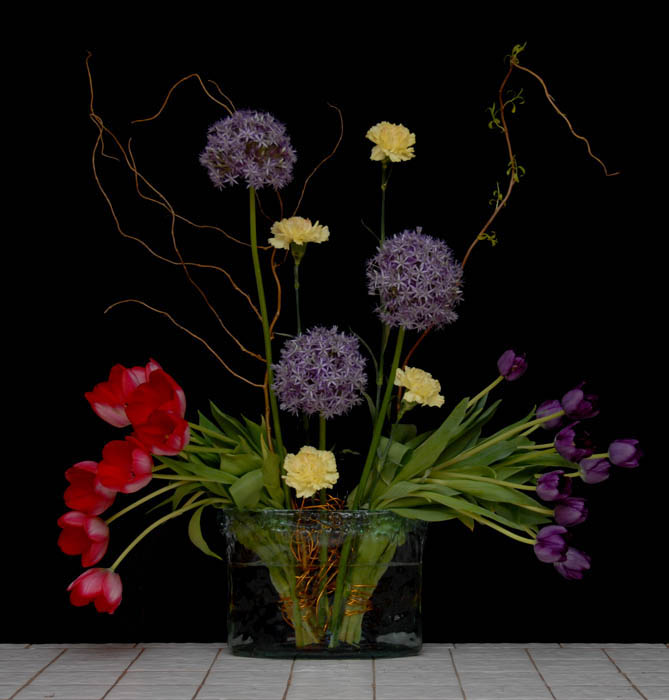 This gallery has two parts..... videos and photographs....
---
---
Videos

If you enjoy watching videos we have some really neat online demonstrations that show the use of some of these wonderful spring materials from Blooming of Beloit. Simply click on the links below to view them....
How To Make More Fun Designs With Allium
How To Make Quick and Easy Designs With Allium
How To Make A Spirea Topiary Tree
---
---
Still Photographs
The second part of this gallery contains still photographs of a variety of very neat designs incorporating Blooming of Beloits' wonderful spring materials.
Click on Page Two below to continue exploring this part of the gallery!