Fun With Stephanotis From SMR
(page 2)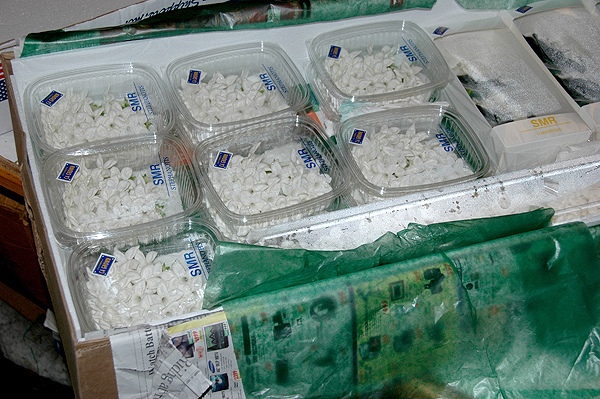 This is how the stephanotis arrived at our school...
Stephanotis is usually packaged in small plastic boxes or sometimes in bags. They usually are packed approximately 25 per box.
Because stephanotis have very short stems, one is rather limited in terms of conditioning procedures. Usually we mist them with water, close the box, and refrigerate in a floral refrigerator.
Stephanotis come from many places. These stephanotis are from SMR. They have been growing specialty wedding flowers for over 20 years......
Here is a close up!
So many of our flowers these days are brought in from all over the world. It is not unusual for flowers used at Rittners Floral School to be from Holland, or perhaps from Columbia or even Central America or the Middle East.
I always take special pride though, when we use flowers that are grown in the United States....
SMR is in the Santa Clara Valley in California! The weather conditions and temperature there results in terrific stephanotis. The quality of these 'grown in the USA' flowers is quite obvious.

---
---