Our Location--One of the Finest Residential Neighborhoods in Boston.....
We are fortunate in that our school is located in one of the greatest cities in North America---Boston.
Boston is a city where just about everyone wants to visit, attend a school here, or visit someone who lives or studies here.
It is a really amazing place.
And we are here in the center of this exciting city!!!!
The Rittners School of Floral Design is located in one of the nicest residential neighborhoods in the Back Bay section of Boston. The area in which we are located consists of gas street lights, brick sidewalks, and some of the best preserved examples of 19th century architecture in America.
Lovely townhouses, many of them converted into luxury condominiums, in an area noted for its concern with historic preservation, contribute to a lovely environment for our students.
Our school is in a residential district, but we are located only a few blocks away from fashionable Newbury Street, a premiere shopping district filled with boutiques, galleries and great dining. We are also very close to two very distinctive, upscale urban malls, (The Prudential Center Mall and Copley Place.) Like to eat, shop or just look? It's very easy!
Here is a photograph of the front of our building during the spring.
Our students have found that the charm & appeal of our location definitely contributes to their enjoyment of our courses.
Students from out of town find that our elegant setting in historic Boston is a definite asset.











Because our school is located in one of the prettiest sections of Boston, we thought you might enjoy a quick celebration of spring in our neighborhood. We took most of the photographs in this short video in our garden, and/or within a block or two of our school.
Be assured our school's location is incredible regardless of season!


Boston
Boston, is a dynamic city pulsating with life & vigor. Although it was founded in 1630, modern skyscrapers & expressways combine with picturesque brickwork to create a unique blend of the old and the new. Lovely parks, river & oceanfront all contribute to a city that is pretty as well as exciting.
Boston is a small city that feels much larger than it actually is!
Boston has a very cosmopolitan atmosphere as it attracts folks from all over the country and from around the world. It is widely known for its world class cultural, medical, and educational institutions.
Boston is also a very "liveable" city. People actually enjoy living in the city as well as around it. Not huge, overwhelming or scarey. Scalewise it works very well. It's a beautiful, distinctive city with old world personality and charm.
Because of the wealth of historical, cultural and educational resources here, Boston is a terrific vacation destination.
It doesn't get any better than this... Take an amazing floral designing program in one of the nicest areas of an exciting city with all kinds of great things to see and do.....

Activites and Culture
Boston has it all. If you like historical landmarks, we've got it. From Paul Revere's House to Old Ironsides, Boston makes history come alive.
If you like art, ballet, and music, we've got it here too!....in a wide range of tastes.
Love art and culture? We've got some of the finest museums in the world. You can spend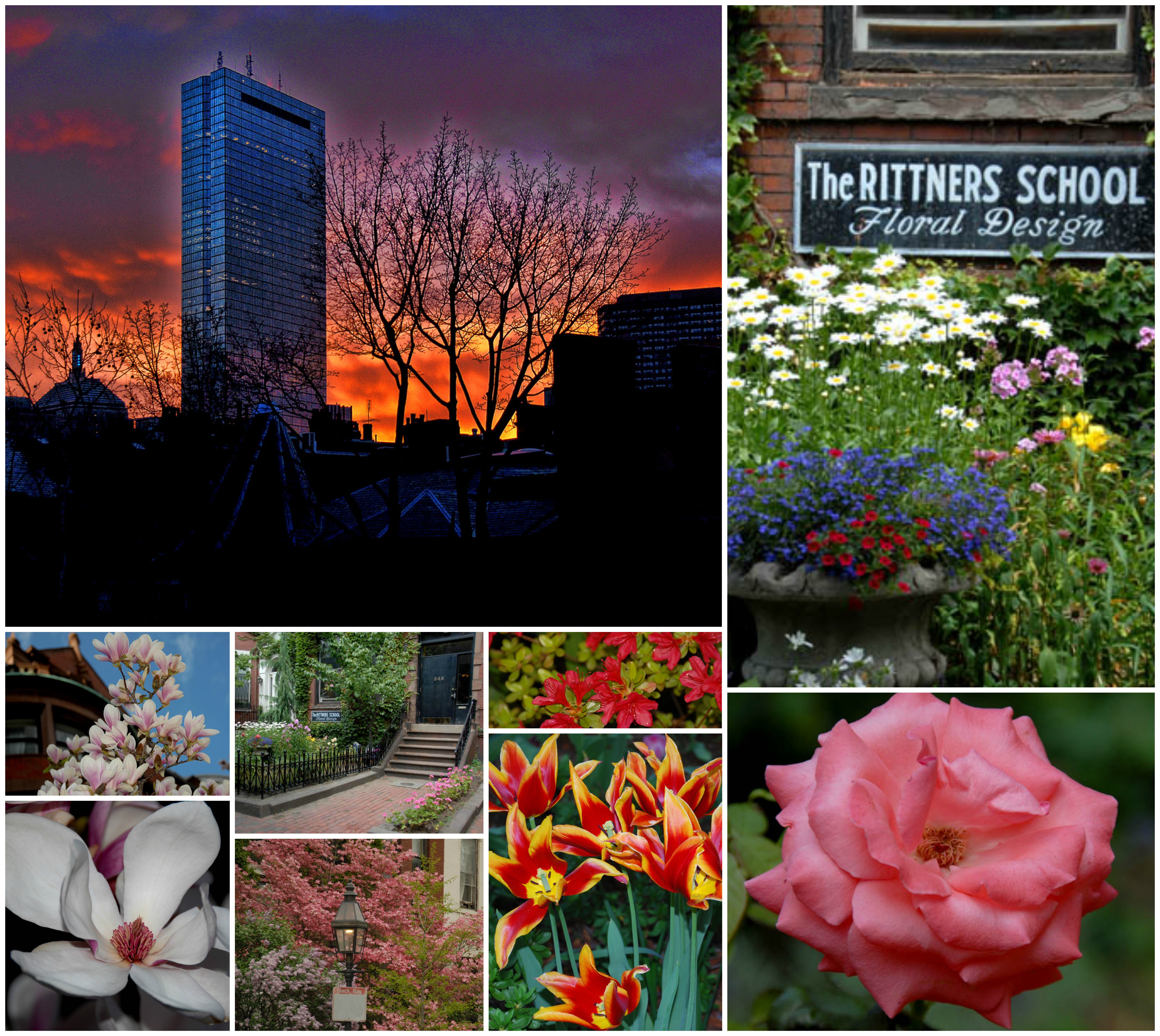 days exploring our Museum of Fine Arts, Gardner Museum and many of the other museums in the area.
Sports in Boston provides endless thrills and chills in a city noted for very energetic & lively fans.
(See our tribute to the Red Sox).
And if you feel like exploring a bit outside of Boston, our city is centrally located to make it easy to find all kinds of additional places and resources.....
Great skiing & swimming can be found very close to Boston.
New Hampshire. Vermont and Maine feature some of the best skiing in the country. Cape Cod beaches attract folks from all over! All of these places are relatively close by!
And if you really have wanderlust, some of our students have enjoyed taking weekends in Montreal with its European French flavor or New York or Washington. In fact Bermuda, and Europe are all amazingly close by air.
Rittners Floral School---Great courses in a city where it is fun to live and to play!
---
---
If you are from out of town and would like to get a better feel for the very exciting city and area in which the Rittners School of Floral Design is located, check out the following web sites: