Here Are Some Nice Examples of Floral Art From Rittners Floral School, in Boston, Ma.
If you click on a page about "Floral Design Day," you probably do have some expectations to see some floral designing.
We don't want to disappoint you.
I hope you find this gallery to be fun viewing...
Steve Rittner---Rittners Floral School, Boston, MA.
PS: When you finish looking at the pretty floral designs here, be sure to check out Floral Design Day Gallery II
The Viburnum Berries alone in the photo below make a striking design in a water base, and hold up very very well.
Below is a variation of the above design. By adding curly willow (instead of the allium stems) we can take a design and make it quite large, depending upon the space we want to fill. Also can charge more!
Same container, design in water, but different placement.
Here are two more variations using the same container!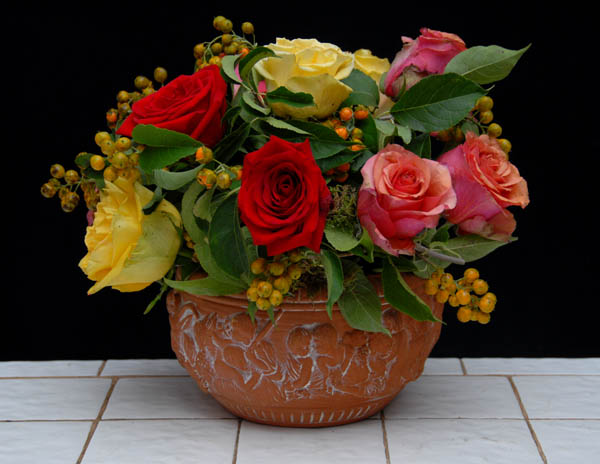 Some folks do dry them, but the bittersweet berries really look wonderful while alive, and the foliage fills up a container quickly and easily. It's great stuff to use in the live form. I really fell in love with this berry.
Modular designs are designs that can be placed next to each other to create a large more expensive and complex piece. Viburnum berries made this water based piece really easy.
Monochromatic. Greens. Hydrangea worked well here along with your green sedum. The design also contains Trick Dianthus.
Very Lavish and Lush.. Good use of Allium, Bittersweet, Viburnum Berries and Sedum.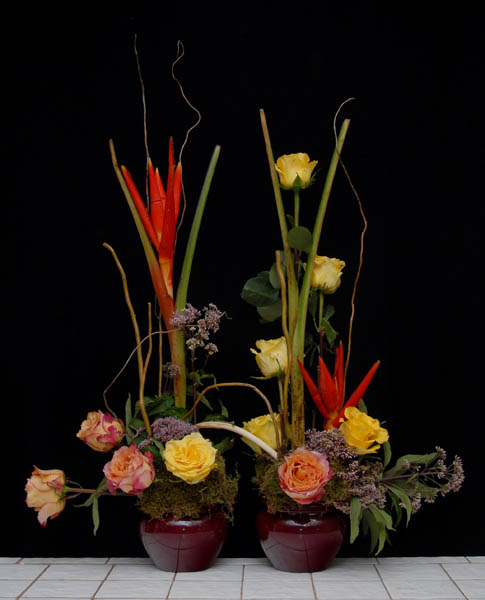 Some of my favorite styling... Very complex visually, Makes great use of the allium, Bittersweet and green sedum.